Jersey
Business Listings


You have to advertise to get noticed


The option
to enhance
the visibility
of your listing
is available by
increasing its
priority.


There are
3 types
of priority
available...


Elite Listing

Elite Listing status guarantees that your listing will appear in the top section of the search, with a share of the top position, under your defined Primary keyword (eg. Lawyers). It therefore becomes one of the first listings that a user will see when searching for your products or services. Additionally, the listing will be given extra prominence by having its background colour highlights in yellow and an in-listing Mini Ad. It is an excellent way for an advertiser to grab users' attention. Additionally, you will be able to include 4 descriptive bullet points as well as assign additional searchable keywords to help users find your business listing. The standard package also includes a map of your location, email link and toll free calling facility.

Ultra Listing

Ultra Listing status guarantees that your listing will appear ahead of the regular listings in the search results under your defined keywords (eg. Hotels). This priority will increase your business' visibility against competitors who choose regular listings. Additionally, you will be able to include 2 descriptive bullet points as well as assign searchable keywords to help users find your business listing. The standard package also includes a map of your location, email link and toll free calling facility.

Regular Listing

Every business can have at least one free listing online under one primary keyword. This can be enhanced both by adding extra content like website link, map or email, or by assigning additional keywords so it comes up more often.

Buttons

Check out these buttons located under your online listings for special services






Make a Toll-Free call to your business.

Click to your ePage from your listing.

Links to a hosted and streamed advertiser video.

Opens your restaurant's menu just below the listing.

Displays a slide show of business photos below your

listing.

Opens a display advert below your listing.

Links to a map pinpointing your business' location.

Links directly to your business website from your listing.

Links directly to your email address.

Links directly to printable coupons for discounted special

offers.

Enables potential buyers to save your listing info to a

range of devices.

Allows the user to post an opinion about your business.

Instantly view a website on your cellphone's web

browser.

Opens a list of items or services offered by your business.

Lists answers for frequently asked questions.

Opens to display any miscellaneous information about

your business.
Click here to see a sample Photo Slide Show Button function (press the play button).

Dramatically increase the impact and effectiveness of your online
marketing with the purchase of an ePage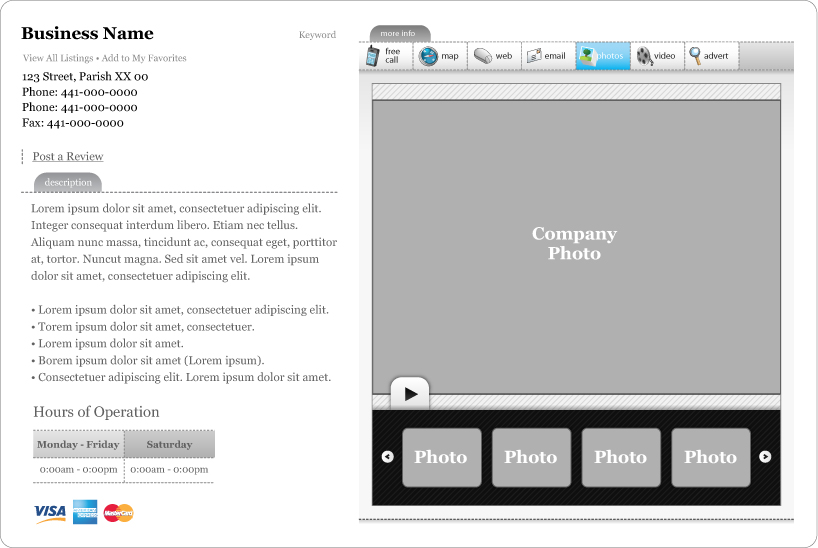 An ePage is an extremely cost effective way to communicate comprehensive and compelling information on your business, products and services. Many small or medium size
business are using the ePage as their website or as a search engine landing page. You can purchase a domain name, i.e. www.yourbusinessname.com, that will link directly to
your ePage.
ePage Features
• Purchase of an ePage Button automatically elevates your listing to Ultra status giving you priority positioning.
• ePages include a free Mini Ad within your Ultra Listing.
• ePages include a free Map Button and Map Tab.
• ePages include a description of your company's products, services, offers, opening hours, promotion and accepted credit cards.
• ePages can include all other Buttons that are available for purchase.
• ePages can be further personalized and upgraded with interactive Tabs including FAQ, Slideshow, Product List / Menu and others that are available for purchase.
• ePages can be reached through your listing and also through an individual domain name which we can purchase on your behalf.
TAB/Button Features

Click here to see a description of the Button options

special features.
Banner Ads

Search Banner Adverts provide an excellent way to visually advertise your company message, products and

services on BERMUDAYP.COM, and enable potential customers to link straight through to your website or

ePage. They appear on a rotating basis above the listings for each search, based on your specific keywords

to ensure your business' details will stand out. It raises user awareness of your brand an of the products and

services your business can offer them. They can be static or animated. Choose from the from 2 sizes for a

fixed price advertising option, which will maximize your company's exposure online.

Home Page Banner Ads

Home page banners appear on a cyclical basis both on the home page and throughout the sight making them extremely visual for all users. As such, they are a great way of promoting your business, products and services to both your established customers and to new customers who maybe aren't ware of your company.